Check out the answers to the most frequently asked questions: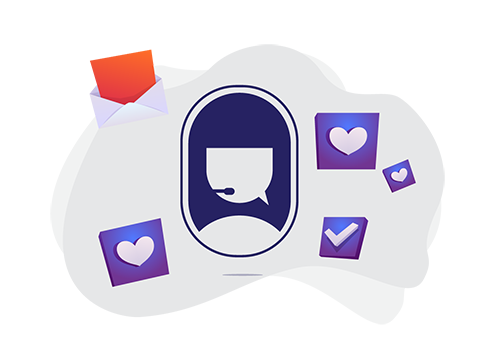 AVA -Awesome Virtual Analyst- is what we provide to optimize your Marketing efforts & Customer Experience. Ava is what we title our team members who are specifically trained professionals, working remotely with focus on getting the job done right and successfully delivering results to our clients.
Each Ava has been extensively screened, successfully passed rigorous skills, language, and technology evaluations. In addition, each Ava has completed enhanced Customer Experience training, and Marketing Optimization training, all of which were conducted by our own Recruitment Team.
Ava teams are physically located in the Philippines. We support USA employment and we also support a global economy. The Philippines is one of the top outsourcing destinations in the world. Manila,Philippines had been consistently making it to the top 5 in the Tholons Top 100 Outsourcing Destinations from 2017 to 2019, and ranked #6 in 2020. From BPO companies to working from home, many Filipino professionals have vast experience working with offshore clients. Our Filipino Avas are known to be hardworking, loyal, with a positive disposition and a high level of integrity.
In addition, here are top 3 reasons why Filipino Avas are simply awesome:
High Level of English Proficiency. English is the country's second language, and the medium of instruction in the Philippine education system. The country ranked #27 in the EF English Proficiency Index result for 2020 out of 100 countries globally, and #2 in Asia out of 24 countries. Filipinos definitely have the edge when it comes to communication.
High Literacy Rate. The Philippines has a literacy rate of 98.20%; among the highest in the world.
Perfect Cultural Fit. The Philippines has become a cultural melting pot with the innate ability to conform to social nuances from different countries.
Is my information secured with Ava?
Definitely. Once you sign up with Just Ask Ava, your dedicated Ava & Project Manager signs a Non-Disclosure Agreement to protect your information.
How long before I see results?
The first 2-3 weeks would be an adjustment period. Result is expected to gradually pick up towards the end of the 4th week.
Will I be able to speak to someone?
Yes, Upon activation of your Just ask Ava Project, there will be a Meet & Greet session with your Ava Team and a weekly Google Meet session thereafter, depending on your preference and availability. You will be given access to a Google Meet calendar to choose for the date and time of each meeting.
How do I keep track of my Ava's working hours?
We measure performance by the output and the quality of work, not by hours invested in work, so tracking is unnecessary here. Our Avas are highly trained professionals who work with integrity, and we attract like-minded clients. We quickly build a foundation of trust because our Avas meet the commitments put before them.
How quickly can I get my Ava?
You can get your Ava in as quick and easy as 1-2-3.
Schedule a 30 Minute Ava Phone Consultation.
Decide and confirm your subscription.
Meet with your Ava Team
May I hire more than one Ava?
Yes! Many of our clients hire two or more Avas, depending on your business needs.
Will I be able to contact my Ava?
Yes! We will establish a communication channel in your preferred platform (i.e. WhatsApp, Skype, Telegram, etc.) by which you and your Ava will communicate. Additionally, every client is given access to a Project Manager who further ensures that all of your tasks are being completed and delivered as expected.
How does the Ava subscription plan work?
Upon signing up for one of our Ava subscriptions, you will be required to pay for the first month. Once payment is received, your account is activated. You will automatically be billed monthly, on a 30-day cycle which begins on the date of your initial payment. If for any reason you elect to formally cancel your subscription, your refund will be prorated. We want you to be 100% happy!
What payment types does Ava accept?
We accept most all major credit cards, and checking or savings account payments, via our online payment portal.
What happens if my Ava is sick or is absent without notice?
We've got you covered! With our talented Ava Team, you don't need to worry about absenteeism; your Project Manager will find a temporary substitute and will always find ways to deliver what is expected.
Will my Ava work on public holidays?
Our Avas observe major Philippine holidays, however, if you need your Ava to work on these days, just reach out to your Project Manager to arrange support. A holiday schedule will be provided to you and holiday fees will apply according to Philippine holiday premium calculations.
Will my Ava work overtime?
Yes! With prior arrangements and compensation, Avas can work overtime. Every Ava is required to seek client approval through your Project Manager, for any paid overtime. Please reach out to your Project Manager to arrange for any overtime work.
Do I need to sign a contract to hire my Ava?
Ava offers month-to-month subscription plans, which serves as our mutual contract. Subscriptions are paid upon signing up for Ava and will be due for renewal every 30 days thereafter, for as long as you want to continue with your subscription. If you choose to cancel your subscription, you simply submit your request in writing to your Project Manager at least 5 working days before your renewal date.
Is it safe to share critical and financial information such as bank account and password information with my Ava?
Ava values safety and trust, and your information is safe with our Avas. However, for both your and their safety, we require the use of a secure sharing system (such as LastPass) for passwords and credit card information. Your Project Manager will assist you with this process.